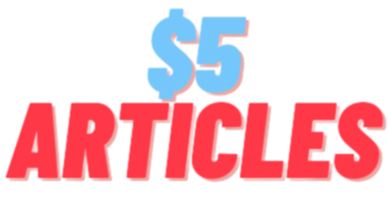 Keep an eye out for special offers in your email.
Here is the Free Writing Sample You Requested!
Four Benefits of Using a Blog to Build Your Business
A profitable business requires solving a specific problem for customers. Many companies find it difficult to stand out in the sea of information on the internet and be found by potential customers. A blog used to be a powerful marketing tool for a company, but it is now essential for breaking through the clutter.
Is all the work involved creating and publishing content worth it? These are the top reasons to have a blog for your company.

Increase search engine traffic

A blog can help you get more people to your website. Each article you publish is another page that search engines index, giving your business an additional chance to appear in organic searches.
Search engines will recognize that your business is active by keeping your blog updated with fresh, new content on a regular basis. Google is particularly fond of new content and will give blog sites higher search rankings for posting on a regular basis.

Convert traffic to leads

Your blog should have a way to capture information about visitors and convert them into leads. A call to action is a simple solution that's very common and easy to include in every blog post.
Giving away additional information, such as a free ebook or webinar, in return for an email address or phone number, is known as a call to action. An email or phone number allows a business owner to continue marketing products and services, eventually turning prospects into paying customers.

Blogs create authority

Your blog posts can help prospects find the solution to a problem, which promotes trust and encourages them to purchase from you.
Blogs can add personality to your business and help you keep in touch with your customers' concerns and interests. Posting about a business gives it a face and voice, increasing familiarity and likability.

Blog posts continue to generate leads

Articles can be your salesperson 24 hours a day, seven days a week. Although it is important to add new content regularly, an informative, well-written article will attract endless new visitors. Traffic and leads will continue visiting your website for many days, weeks, months, or even years.

Creating high-quality content will increase search traffic and authority. A business blog is a great way to get your business out of the chaos of the internet and a connection with your ideal customer.
Although it may seem daunting at first, business blogging does work in the long run. You will start to see steady, predictable traffic to your site and new leads over time.